By Myesha Johnson | May 27, 2023
Many older LGBTQ+ people lack social outlets and access to needed services while struggling with historical prejudices, offering a stark contrast this time of year with the celebratory nature of Pride events.
"LGBT people rely on their families of choice," says Judy Lewis, a cultural competency educator who works with LGBTQ+ seniors. "In the LGBTQ community, it's older adults taking care of older adults, because they're afraid to go somewhere and ask for help because they don't want the rejection."
Lewis leads diversity, equity and inclusion training sessions put on by MiGEN, a nonprofit organization that supports LGBTQ+ elders. As an LGBTQ+ senior herself, Lewis — who's 75 — understands how difficult it is for older community members who have felt compelled to hide their sexual or gender orientation.
"I'm very fortunate that I have a daughter and son-in-law … but there are people that are very much alone, who are just sitting in a chair waiting to die because they're afraid to go out," she said.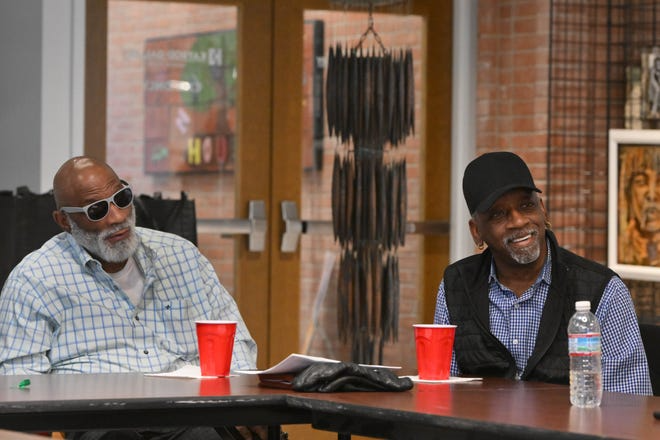 Cornelius Wilson, chief engagement officer for MiGEN, says he sees firsthand how other elders in his community "fade into the background" as they age. Wilson, who's a gay man, coordinates programming at MiGEN's monthly Elders Services Network Dinner, a Detroit event that brings older LBGTQ+ people together for fellowship and discussions on topics such as mindfulness.
"I don't know if it's because of health, or just age, or just folks feeling beaten down, but a lot of us have gotten very … sedentary when it comes to socializing and/or supporting our community around various issues," he said.
A survey of 2,004 LGBTQ+ people 45 and older released in June by AARP demonstrates such concerns are widespread. Just over half — 52% — reported being socially isolated, while 85% reported being at least somewhat concerned about sexual orientation discrimination. Nearly half — 49% — said they were "extremely or very concerned" about having sufficient support from family or others as they grow older.
Greg Cherry, 71, has been doing advocacy work in the LGBTQ+ community for the last 30 years, such as counseling and education for HIV-positive Black men in Detroit. In recent decades, "gay people have made strides," Cherry says but he still sees barriers in housing and a lack of nightclubs and other social outlets for LGBTQ+ seniors in Detroit.
"In the city of Detroit, it's no real activities for senior citizens (who are) LGBTQ, period," he said. "You can go to Ferndale and do a little partying, go to Royal Oak and do a little partying with the allies, but it's not in your community."
Another Detroiter, James Sanderfer, agrees the city needs more community spaces for LGBTQ+ people. "Do they have programs listed and offered … where you can go into a safe space and enjoy each other's company and talk, sit around and play cards?" Sanderfer, 61, said.
"It's a struggle trying to get some help, when you get older, to get someone to come in and help you out… especially a bigger struggle for me, because I lost my sight and I'm blind now," he said. An in-home caregiver helps him part-time, but most of the time Sanderfer takes care of himself.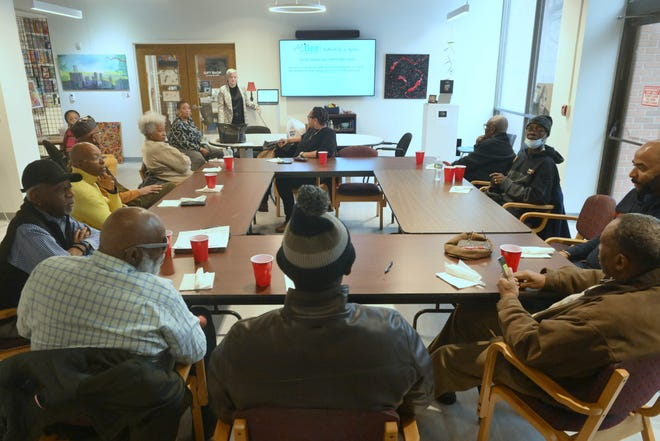 The monthly MiGEN dinners are a welcome respite from isolation for Sanderfer, as well as educational, he said. One common theme: how people felt the need to keep their sexual orientation secret.
"I like the history I learn about different people … the struggles they had coming up," he said. "They had to hide it more than they do now, they were in high positions and just couldn't be their self."
Wilson believes the LGBTQ+ elder community needs to be more vocal in asking for resources and combating isolation. "If we're not out there advocating for ourselves here, not a lot of folks are going to advocate for us," he said.
For many LGBTQ+ seniors, the COVID-19 pandemic added to that sense of invisibility, as other places in southeast Michigan where older gay, lesbian, bisexual and transgender people could gather closed.
In Ann Arbor, the LGTBQ+-centric Common Language Bookstore closed in 2018 due to dwindling sales. Next was Aut Bar, a gay neighborhood club that shut during the pandemic. Then the Jim Toy Community Center, an LGBTQ+ volunteer organization that is well known for organizing the Ann Arbor Pride Parade, lost its physical space.
The Jim Toy Center, which was in the same area as the bookstore and the gay bar, was considered an "unofficial queer center," said Joe Halsch, the organization's president.
"When COVID hit, that definitely shook up a lot of small businesses and nonprofits and our area was not immune to that," Halsch said. "We are still trying to get back on our feet and working to figure out what that is going to look like in the future."
Although the nonprofit no longer has a physical space, the Jim Toy Center still works toward education, advocacy, and community development within the LGBTQ+ community and often works with the American Civil Liberties Unions to provide legal services to LGBTQ+ seniors.
"Name changes are some things we get a lot of requests on help to navigate," Halsch said, as well as other legal matters such as asset ownership.
"It can be really messy and sticky in our situations whether it be old relationships that haven't been married or they're more civil unions or domestic partnership … the law tends to fall on male or female roles in divorces and responsibilities and so in queer relationships that can get a little difficult," Halsch said.
For example, he referenced a case where one of the partners in a same-sex relationship died.
"All of the assets they had built together the other spouse didn't have access to, and they weren't recognized as next of kin because there wasn't a legal marriage and, so next of kin went to the family, and this guy lost his house," Halsch said.
LGBTQ community members like Angie Martell, who has been an attorney for more than 30 years, have seen life partners not be able to make burial arrangements for their deceased loved ones because funeral parlors uphold the law that says that only people who are blood-related or have a legal relationship can make decisions on the deceased's behalf.
"The sad part is not only is there a loss of that relationship and that person, but there's also a loss of their home and everything they've known," Martell said. For this reason, the attorney recommends that people in a relationship who live together set up an estate plan.
Besides help with legal matters and safe spaces to gather, LGBTQ+ seniors need visible signs of acceptance and support from outside their community, Lewis said.
"I go around to various professional care providers, do these trainings, and hopefully get them to sign a statement of inclusion, that they will change policy or include in their policy, sexual orientation and gender identity," she said.
As a part of her training sessions, she gives suggestions on ways organizations can demonstrate that they're LGBTQ+ allies, like displaying a rainbow flag.
"You need to come out as an ally before I will come out as LGBT," Lewis said. "You need to have some kind of something that indicates that you are not someone to be afraid of."