MiGen believes we have all earned the right to Age Out Loud and offers an array of programs and services intended to make the lives of LGBTQ+ folks ages 45+ safer, more connected, more vibrant and more FUN.
To get connected with any of the programs and services listed below, fill out the client application form here.
To register for programming or events, click this link: https://www.monami.io/calendars/mi-gen.
Current Programs
Food Program/MiCAFE
For LGBTQ+ and same-gender loving older adults (45 and up) facing food insecurity in metro Detroit, sign up to receive boxes of healthy non-perishable food twice monthly. Through support from United Way of Southeast Michigan, MiGen is also able to offer qualified older adults custom Instacart orders up to $175 at no charge. Email Kat at: kmehrer@migenconnect.org to learn more.
Technical and Computer Support
Do you want to "get" technology? Our Tech Buddy program has both online and in person instructional options to help you use web services such as paying bills, sending money, finding an internet provider, using email, zoom, social media platforms and more.
Friendly Caller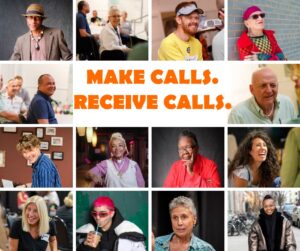 The Friendly Caller Program aims to increase community connections and social support for LGBTQ+ older adults ages 45 and up through weekly friendly calls. Additionally, participants are matched with someone and commit to at least one call per week for a four month period, with an emphasis on relationship building.
MiSocials (virtual and in person)
Our weekly MiSocials bring together LGBTQ+ older adults from across Michigan. This is your chance to learn and make new friends in the process through community discussions with special guests. Meetings are Thursday at 11 a.m. and are free and open.
2nd Sunday Arts Program
The Second Sunday Art Program is a monthly event showcasing the works of a single artist, followed by an open Q&A with the artist.
MiStory
MiStory is a monthly virtual event which allows our LGBTQ+ elders to pass on their wisdom and comradery by sharing their unique and diverse stories. Each virtual MiStory focuses on a historical event and invites participants to share, listen, and learn.
Adult Vaccination
We provide pop up events, and partnerships with other organizations to provide vaccinations for the Flu and for COVID boosters, and we help navigate the barriers older LGBTQ+ adults might have to keeping their vaccinations up to date.
Community Navigation & Support
Community Navigators provide friendly and comprehensive assistance to LGBTQ+ seniors in need of additional resources. Community Navigators can help seniors access community assistance programs, transportation, housing and more. Our Navigators help to eliminate barriers of technology and transportation by providing step-by-step assistance in-person, by phone, or virtually.
MMAP Counselling
Part of our Community Navigation system, Michigan's Medicare/Medicaid Assistance Program (MMAP) counselors will help you understand your Medicare health plan options, identify resources for prescription drug assistance, explore long term care financing options and more.
Trans Aging Project
Recruitment and training for volunteer health advocates who are able to accompany transgender and gender non-conforming (GNC) older adults to medical appointments to assist with advocacy, allyship, support, and resource connections.
LIT Collaborative Timebank
The LGBTQ+ Intergenerational Collaborative Timebank uses the time banking model to connect older and younger generations of LGBTQ+ people in our community. This culturally affirming support and care enables LGBTQ+ older adults to age with dignity.
LIT Timebank Collaborative partners: Hannan Center, LGBT Detroit, Corktown, Affirmations, MI Timebanks, AmeriCorps.
Volunteering
Sign up to be a volunteer here! We have opportunities for volunteers of all skill levels, availabilities, and abilities.
Behavioral Health Referrals
Black Led Mental Health Project
The Black Led Mental Health Project is an initiative by Black-led organizations connecting Black people who are at risk for depression and other mental health concerns to Black and non-white providers for behavioral health services, as well as primary care and ancillary services. This project is conducted in partnership with Detroit based, Black-led organizations Hannan Center and Corktown Health.
Support Groups (virtual and in person):
Detroit Elders Project – This group is for Detroit's LGBT older adults to learn about important issues that may impact their lives and to socialize with one another in a safe, supportive environment. Complimentary dinner provided. Meets in person the third Thursday of each month at Hannan Center (4750 Woodward Ave, Detroit, MI 48201) from 5PM-7:30PM. For more information, you can reach out to Cornelius Wilson by email at cwilson@migenconnect.org or by phone at 313.942.2803.
Senior Koffee Klatch (Ferndale) – Discussion and networking group for LGBT people 45 and older. Meets in person on Wednesdays from 1-2:30PM at Affirmations (290 W Nine Mile Rd, Ferndale, MI 48220). Contact programs@migenconnect.org for more information.
Senior Koffee Klatch (Royal Oak) – Discussion and networking group for LGBT people 45 and older. Meets in person on Fridays from 1-2:30PM at the Royal Oak Community Center (3500 Marais Ave, Royal Oak, MI 48073). Contact programs@migenconnect.org for more information.
Men of the Hour – Discussion and support group dedicated to addressing issues specific to Men Living with HIV/AIDS (MLWHA) in our community. Meets in person every 3rd Wednesday of each month at MSU-Detroit Center (3408 Woodward, Detroit, MI 48201) 5PM-7PM. Light meal provided. For more information, you can reach out to Cornelius Wilson by email at cwilson@migenconnect.org or by phone at 313.942.2803.